Leonardo Da Vinci's Genius Under A Gay Light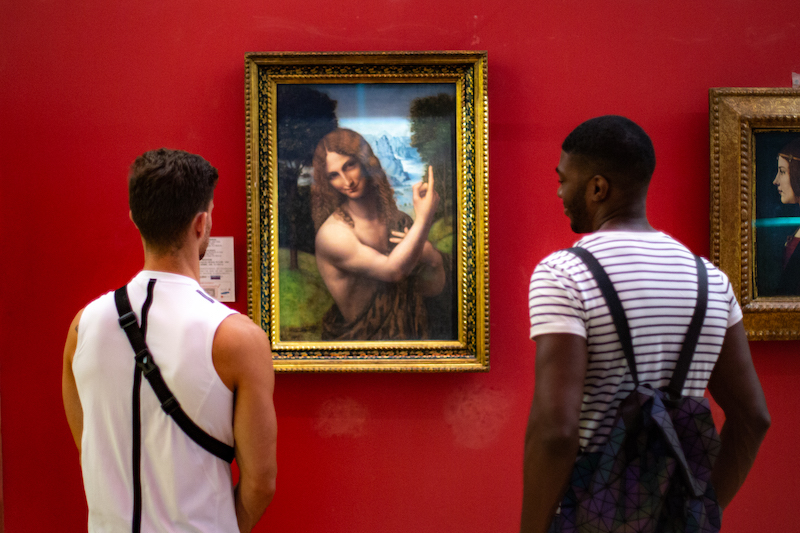 Duration: 10 Hours (approx.)
Location: Milan
Product code: LDV4M
Leonardo da Vinci is named as the 'Renaissance Genius'. He was a scientist, a painter, an architect, an engineer a choreographer, an inventor and much more. A superior mind in a time of great artistic and scientific enlightenment which made Italy the country of knowledge and art.
Leonardo's personality was driven by a speculative idea…he needed to understand and to explain natural phenomenon and he did it by a never-ending study. Nevertheless, even though he was acknowledged as a genius by all Renaissance courts, he was pursued and condemned for his homosexuality. At his laboratory in Florence and Milan (in his 'bottega'), some scholars were involved in romances with him, which harassed his fame. Leonardo was said to be grumpy and misanthropic….but he fell in love with a young scholar, who he surnamed Salaì (from Salaino, the Devil's name). Salai was a handsome young man who had a very strong appeal on Leonardo, who accepted his turbulent and outrageous attitude. 'St John the Baptist' painting recalls Salai as a model and he has inspired many paintings (amongst them, the 'Mona Lisa'). His scholar Salai was a turbulent character in Leonardo's life. Salai was clearly a cheater, a thief….and Leonardo knew that. Nevertheless he kept the young man with him until two years before he died.
From 1517 to 1519 (Leonardo's death), the artist with lived with Francesco Melzi, who inherited the papers and drawings of his great Master. At Villa Melzi in Vaprio d'Adda, he collected the painting studies and exercises into the 'Book of Paintings'. Historical dinners in Leonardo's style are organized in Vaprio, nowadays.
Leonardo homosexuality has long been a prickly subject. Many of his drawings and anatomic studies, as well as legal papers, deny this interpretation.
Sigmund Freud in his "Child memories of Leonardo da Vinci" (1910) discusses about his feminine attitude and his great generosity. Freud started his research from the Atlantic Codex, where Leonardo wrote few lines about a child memory: the artist remembers that, when a baby-boy in his cot, a kite flew on his mouth and flattered its tail on Leonardo's mouth. In Freud's opinion, this memory explains a lot about the artist's alternate moods.
Another testimonial is the book 'The Pink Stockings of Salai' by Pietro Marani (2011), in which the author recalls the romance of Leonardo and Salai, pretending to be Francesco Melzi. He clearly gives evidence of Leonardo's generosity to Salai who received a pair of pink stockings as a special gift from his master/lover.
This gay tour takes the visitor to the Ambrosiana Gallery, to see the Atlantic Code and Salaì's portrait. The Sforza's Castle is the next step, followed by the Leonardo's Vineyard, which is one of the oldest ones for 'Aromatic Candia Malvasia' in Europe.